If you're looking to stay up to date on the latest product management trends, then Copenhagen is the place to be. The Danish capital is home to some of the best product management meetups in the world, offering great opportunities to network, share knowledge, and learn from industry experts.
We have listed the best Product Management Meetups below.
Product Therapy Copenhagen Meetup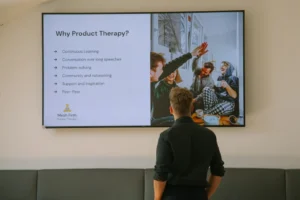 Product Therapy Copenhagen is one of the best Product Management Meetup groups in Copenhagen. It's a community for product people to support and inspire each other. Product Therapy is a safe, interactive space designed for product people to come together to share best practices, discuss challenges, and explore new frameworks for success. Consider it a support group for your professional journey, with a healthy dose of actionable insights!
It's hosted by Mesh Firm once a month on locations of some of the best startups in Copenhagen. Each month the topic is different, and the topic is based on suggestions from the people who attended the events. It's a great opportunity for product people to network, enhance their skills and gain expert insights. It serves as a one-stop hub for solving challenges, staying updated on industry trends, and receiving emotional support.
Check out the Product Therapy Copenhagen Meetup group here: Product Therapy Copenhagen.
Women in Product Copenhagen Meetup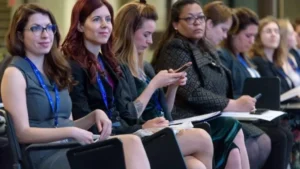 This group is established to support women in product management and champion equal representation. It's a platform for Women in Product or those aspiring to transition into a product career to engage with and gain insights from their peers. They organize events at central Copenhagen workplaces, blending themed presentations or workshops with group dialogues.
Check out the Women in Product Copenhagen Meetup here: Women in Product Copenhagen.
Product Loop Meetup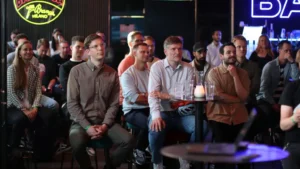 Product Loop is a digital-focused product collective, bridging the spaces of business, design, and technology. Their aim is to foster a community for seasoned product experts who are adept at and tasked with shaping digital products. They offer a platform for product specialists and their colleagues to share insights and experiences on topics like Product Design, Development, Management, Business Strategies, Metrics, User Experience, and other areas that ignite their passion. Their events feature guest speakers discussing various facets of product management and design. They cater to both large corporations and smaller entities. Moreover, budding tech startups eager to understand how to launch their ideas are also welcome.
Check out the Product Loop Copenhagen Meetup here: Product Loop Copenhagen.
ProductTank Copenhagen Meetup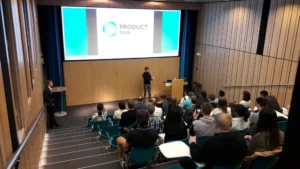 The Copenhagen ProductTank Meetup is the longest-running product management meetup in Copenhagen, with more than 3000 members. The group meets once a month to discuss product management trends and best practices, and to share experiences with product managers from different industries. Speakers from leading companies like Microsoft, Dropbox, and Uber often join the meetings to discuss the challenges and opportunities of product management.
Check out the ProductTank Copenhagen meetup group here: ProductTank Copenhagen.
Product Marketing Meetup
Product Marketing Meetup is a group for Product Marketers. Product Marketing roles are diverse, and occasionally, we need to pause and reflect on our methods. One thing's for sure: product marketers aren't isolated in their efforts. Come connect with like-minded individuals, share insights, enhance your market launch techniques, or simply draw inspiration from the innovative strategies of fellow professionals!
Check out the Product Marketing Meetup group here: Product Marketing.